White walls, high ceilings and industrial charm, flooded by natural light – the ideal backdrop for your next shoot.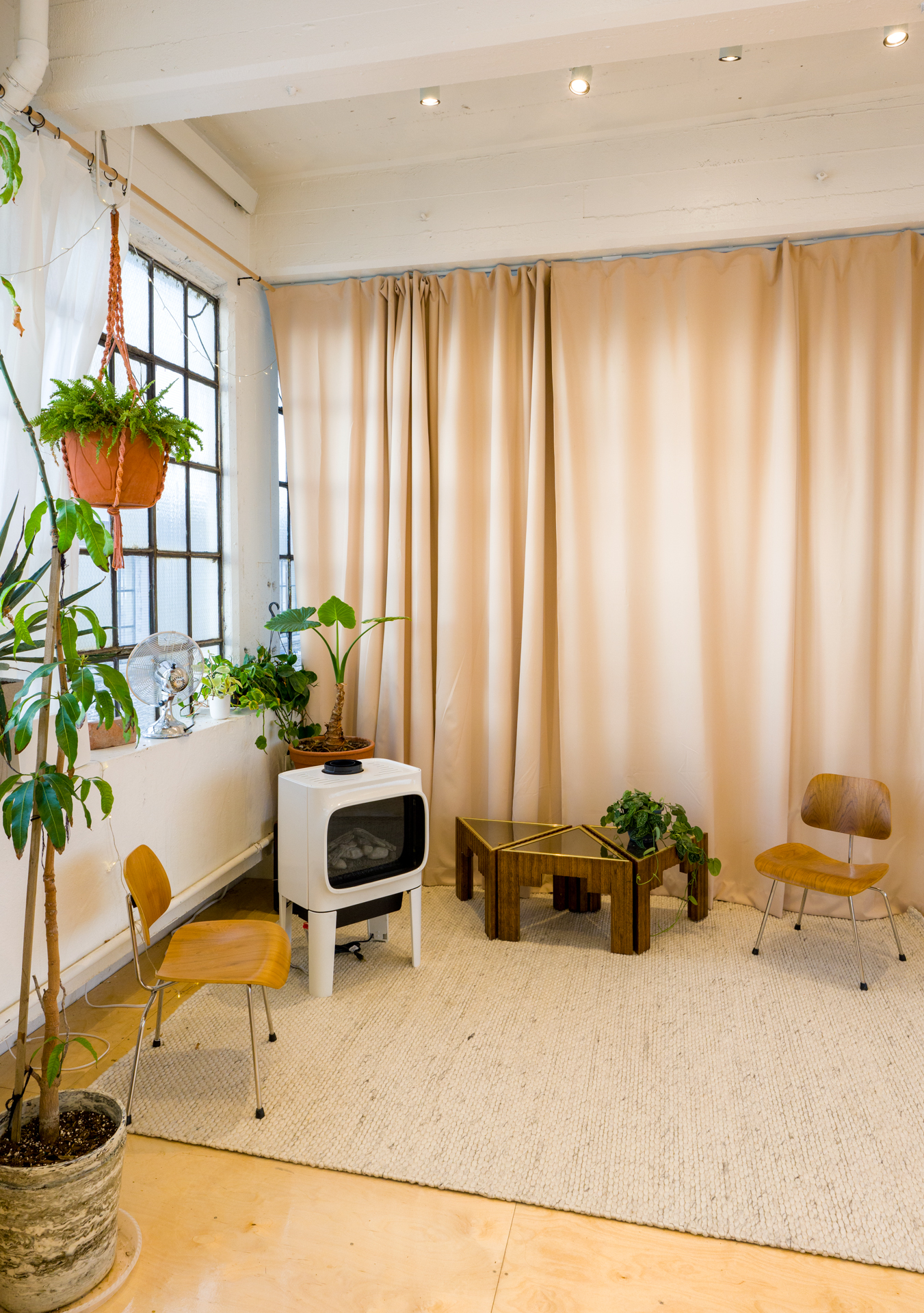 A Natural Light-filled Studio
This 600 sq ft studio brims with possibility, featuring large east and west-facing historic factory windows.
The studio is versatile and is great for fashion and lifestyle shoots, product and tabletop photography, documenting artwork, and more!
The space includes adjustable dimmable track lighting, a sound curtain for privacy and acoustics and some styled furniture.
Community
We love the photo studio for the bridge it creates between Workshop Studios and our city at large. It allows us to extend our reach and welcome more businesses and creatives than we could otherwise accommodate. 
If you are part of a community project or a community initiative that assists a community in need and are operating on a limited budget, please reach out to inquire about possible rate reductions.
Although its focus is on photography, we welcome all other project proposals, from video, rehearsal space, hosting custom workshops, talks, etc. Please email us at info+photo@workshopstudios.ca for any non-photo related requests prior to booking.
Rates
Hourly – $90/hr + GST
Half Day (4 hours) – $360/half day + GST
Full Day (8 hours)  – $720/day + GST
The Nitty-Gritty
600 sq. ft. (26'x24') defined by a white feature wall, two banks of beautiful historic windows, and open on one side to surrounding open-concept artists studio spaces
16 ft. ceilings
Dimmable track lighting
Jotul stove
Lavish greenery
Access to Workshop's shared kitchenette and two washrooms (for non-photographic purposes only)
Unlimited Wifi access
Free parking
Studio supervisor / limited assistance
Please note: the photo studio is part of an open air concept. While you'll enjoy exclusive use of the dedicated photo area, you'll be working within earshot of neighbouring artists. There is a sound curtain to fully enclose the space for privacy and sound isolation, but we will ask you to be considerate of the shared space.
Expanded Site
Want to shoot in our ceramic studio, garden, or other areas on site?  Contact us about your project and we can build a quote for you! Advanced booking and site visit required so we can understand the impact your shoot will have on members and tenants.