Events are a great way to team build or celebrate with a group!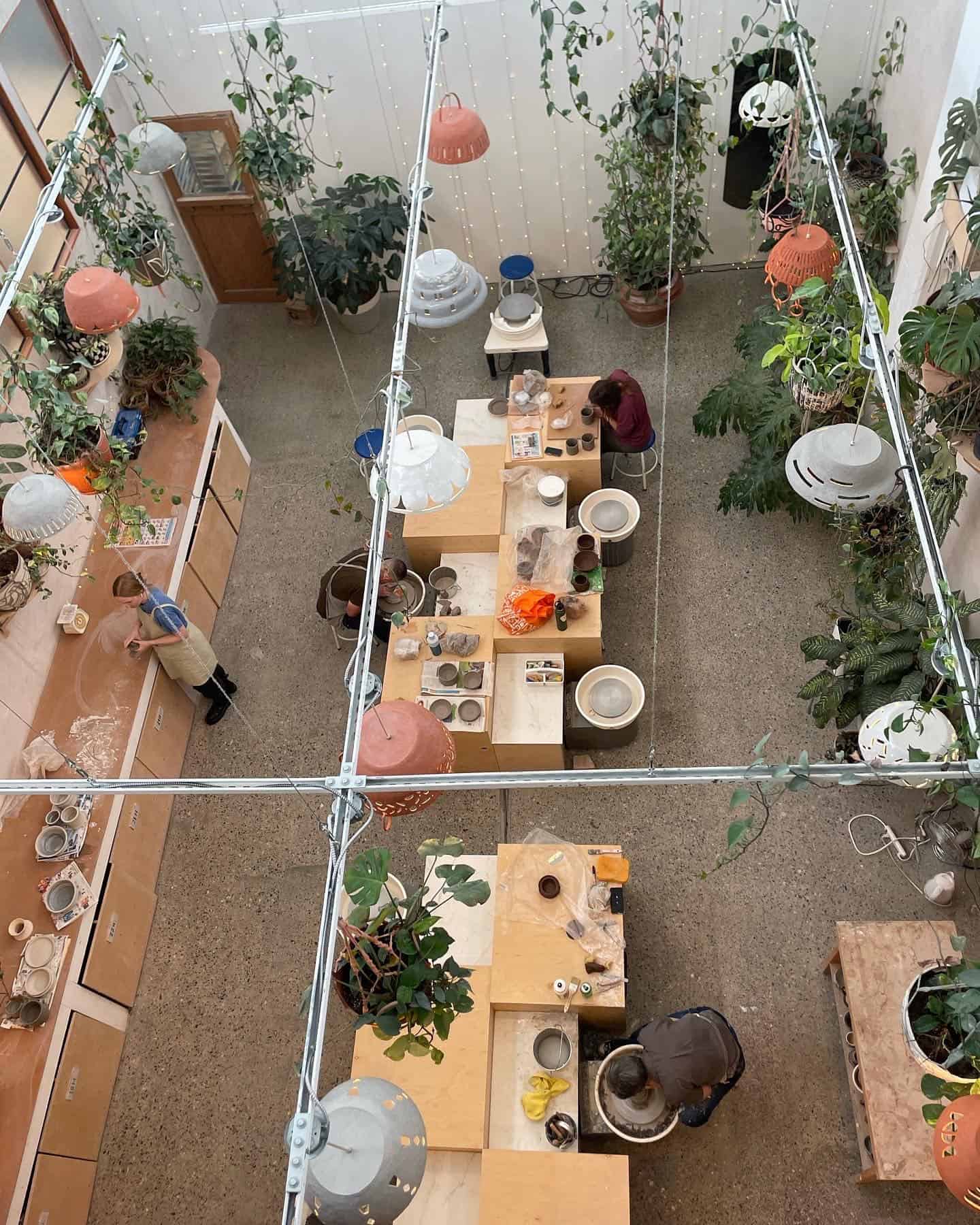 Event Bookings
Workshop Studios curates wonderful events for team building, birthdays, bachelorette parties, and more. 
For groups of 7-24: our Private Events reserve exclusive use of our large new classroom and come complete with live music spun by one of our amazing DJs, exceptional drinks, and expert ceramic instruction.
For groups of 2-6: our Mini Events are booked in our intimate shared member studio. These events are laid back, fun and casual.  
Please view more details about our two offerings below.
Private Events!
We'll fine-tune the details to suit your needs, but a typical event package includes:
2-3 hours of exclusive use of our beautiful throwing room

Private instruction by our fantastic ceramics faculty.

Great tunes by a local DJ.

A selection of wine curated by Vine Arts.

An event host to assist with instruction and keep everyone's drinks full.

Tea, aprons, clay, tools, and everything necessary for production.

Glazing, firing, and packing the work produced for later pickup.

Use of our beautiful mezzanine space for pre- and post-pottery gathering
HOW IT WORKS
We'll welcome your group with drinks as they arrive and explore Workshop. After a quick introduction to the studio, your instructor will jump into hands-on demonstrations of wheel throwing and/or hand-building before inviting everyone to get situated at a wheel. Both your instructor and host will offer plenty of assistance, guiding your group through the process of constructing and decorating up to two pieces each, while keeping the tunes and drinks flowing.
After the event, our technicians glaze and fire your work for later pickup or delivery (typically a 3-4 week turnaround.)
COST
$1695+gst for 12 participants.
Additional costs for groups of 13-24 to include additional hosts and instructors.
ADDITIONAL OPTIONS
A sommelier from Vine Arts to curate, talk about, and pour your wines

Cocktails by Sugar Water

Catering of charcuterie and cheese boards by Peasant Cheese

BYOB (corkage fee applies)

Additional time in our Sunroom Mezzanine

Delivery of finished ceramics (within Calgary)

A photographer to document your event
HOW TO BOOK
Please select one of your preferred dates using this calendar. Once we have received your booking request, we will reach out to you with a quote and work with you to build the perfect event for your group!
Mini Events!
Looking for something smaller and budget-friendly? Date Nights' sold out or incompatible with your schedule? How about a killer birthday gift or anniversary activity?
You will be in expert hands as one of our instructors guides you through a crash course in wheel-throwing or hand-building. 
Our 2-hour Mini-Events include:
Production of up to 2 beautiful vessels each that you will then decorate

Curated music list

All tools, clay, aprons, etc. required for production

Bisque and glaze-firing of your work
Our Mini Events are hosted in our shared member studio.* The intimate jungle setting is perfect for smaller groups, and you are welcome to bring your own drinks or snacks. 
* Although we will book space within the member studio for your event, you do not have private use of the studio. Other members may work quietly in the same space at their stations. Your instructor will have control over the music and will ensure you have the best beats to bend clay to.
Client-requested cancellations are subject to a 5% fee to cover unrecoverable merchant and credit card processing fees. There is no charge for rescheduling.
Age restrictions apply to our Mini Events. For more details please view our Children and Pets Policy.
Our events are centred around learning in a fun, positive environment. While we hope you enjoy your final pieces, we cannot guarantee outcomes.
A Venue that values community
When you choose Workshop Studios to host your next event, you're directly supporting Calgary-based artists and the environmental, social, and cultural organizations we actively partner with.